We focus exclusively on landscape lighting, and it shows!
Our landscape lighting designers will discuss which fixtures are right for you. We always use top of the line products to endure Massachusetts' harsh winters and hot summers.
Residential Landscape Lighting
Landscape Lighting is a low voltage electrical installation that can be used near sprinklers, pools, ponds, decks and patios. Specialty fixtures can be used on deck posts, wall applications and in and around trees and shrubs.
Landscape Lighting offers not only ambiance but safety and security for the home's residents and guests. Thoughtful lighting increases the value of your home and may even save you money on your homeowner's insurance costs.
Get your project started today.
Techniques include but aren't limited to…
Fixtures installed at ground level to enhance trees and homes from the ground up.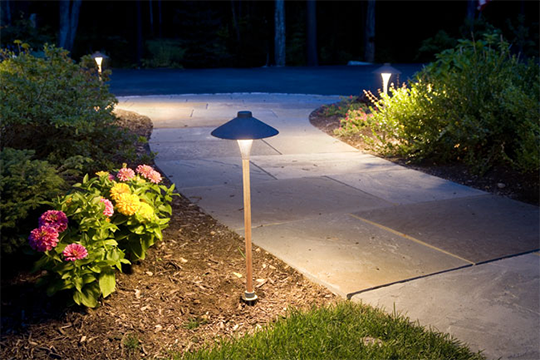 Also known as walkway lighting, these lights add beauty to your landscape while clearly defining sidewalks, driveways and paths. Not only beautiful they help you find your way in the dark.
Spot lighting puts special areas on display and can be achieved with a variety of brilliance and focus.
Wall washers help outline the overall structure of a home and keep the house well lit to deter intruders.